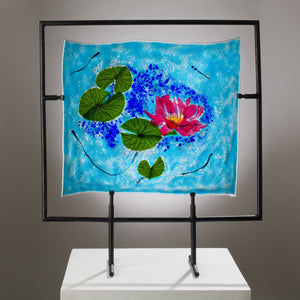 Pedestal Piece -"Waterlillies"
$1,50000

$1,500.00
Tax included.
---
---
Fused glass in a metal display stand. Can be displayed on a pedestal, tabletop, or mantel. 26" H x 23" W x 8"D. Custom orders are welcome and can be ordered in a frame to display on the wall but must be determined when ordering the size, color, and shape. Fused glass is unique and has specific factors in making a custom order. One example is that kiln size is a factor. All will be a unique interpretation.
***Custom orders must be discussed with the artist to determine the desired design of the piece. 
Fused glass in a metal display stand or can be in a frame this one pictured is only in the metal stand because of the curved shape and the colors used. 

Allow 8 weeks for custom orders.
Shipping determined by your location and larger pieces will have boxing and packaging fees in addition and will add weight to the artwork.