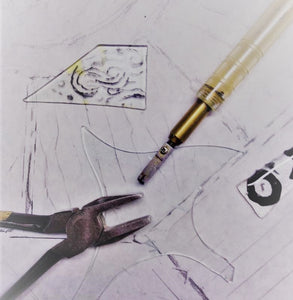 Glass Fusing Introductory Class
$4500

$45.00
Tax included.
---
---
Glass Fusing Introductory Class
Introduction to Fused Glass Workshop
Marianne Hite
Introduction Glass Fusing Basics $45.00
Glass fusing is the melting together of different colors of glass that are compatible with each other.  Learn to cut glass, and make a simple fused piece 3"x 4" using recycled glass. The simple piece will teach you how to do glass fusing basics. We will be using clear recycled glass, embedding wire and some other fun stuff! No need to purchase glass for this class!  This is a good introduction to fusing. This is more about learning than it is about the end product. The sample made in class will need to be fired in the kiln and picked up at an agreed upon time. The studio is in the City of  Green, Ohio             
*Register by  3-18 -18 Cost is $45.00
 Classes will resume in 2021. Email me  hiteofglass@yahoo.com for  information 
Please contact the instructor for more details      hiteofglass@yahoo.com  pay online at http://www.hiteofglass.com  after contacting the instructor.